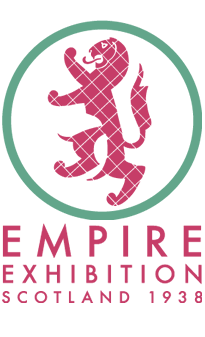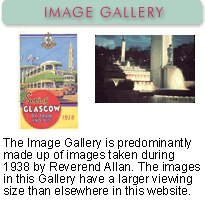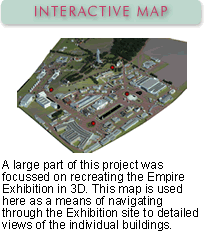 The aim of the project was to create a permanent resource for the exploration, research and public exhibition of the Empire Exhibition of 1938 in the context of Scottish and UK social and architectural history.
This has been achieved by consulting as many sources and individuals as possible to assist in building an accurate 3D digital model from which the planning of the Exhibition and its architectural style can be examined. Through interviews with those who visited the Exhibition in 1938, some measure of the impact it had in late 1930s Glasgow, Scotland and the UK can be made.
The main output from the project has been the production of well researched and constructed, photo-real, 3D models of the principal buildings and structures that comprised the Exhibition together with an accurate 3D map showing the relationship of the various buildings, road and pathways and water features, to the topography of Bellahouston Park.

The other important output, achieved through video interviews, is the opinion of experts in the field of architecture and architectural history as well as the recollections of members of the public who attended the Exhibition in 1938.
The Digital Design Studio (DDS) is a postgraduate and research centre of the Glasgow School of Art specialising in 3D visualisation. It does this through a mixture of research and commercial projects that explore and exploit the creative potential of digital visualisation. It has been successful in securing funding from AHRC, EPSRC, SFC, and has worked on commercial projects for the Ford Motor Company, BBC Scotland, QinetiQ and Glasgow City Council.
Other projects completed by the DDS include Glasgow City Model, John Brown's Shipyard, Submarine Rescue Service, Pacscat.
The Arts and Humanities Research Council (AHRC) supports research within a huge subject domain from traditional humanities subjects, such as history, modern languages and English literature, to the creative and performing arts. In December 2005, it awarded the Digital Design Studio £146k to conduct research into the British Empire Exhibition and in particular, to produce accurate 3D models of the buildings that formed the Exhibition.
The House For an Art Lover has contributed expertise and enthusiasm to this project. It has also made space available in its Interpretation Centre where a fuller version of this website containing higher resolution images can be seen. Additionally, it houses the physical artefacts gathered together during this project as well as digital research files and notes used by the research team. The Interpretation Centre at the House for an Art Lover is open to the public. See link to House web site for further details. Access to the physical and digital research files is by appointment.